About Kuinka
Described by NPR Music as joyous folk-pop, Kuinka "laces modern folk and Americana with an electronic jolt, waltzing along the grooved edges of dream-pop, synth-pop, and Brooklyn's mid-aughts guitar-rock revival" (Vanyaland). Their genre-defying music features several different lead singers, four-part harmony, and eclectic instrumentation including cello, banjo, synthesizers, ukulele and electronic percussion. For all of their sonic experimentation, the Seattle group's songs and live shows are linked by an infectious energy that remains present in everything they do. Their 2019 EP "Landlines" is out on May 17th, check out singles "Wet Cement" and "Taking Love" now on Spotify.
Reviews of Kuinka
"Last year I came across Kuinka and fell in love... rousing vocal harmonies... and unique blend of energetic, string-band music with a dose of synth. Kuinka's live performance knocked me out...."
"Kuinka is not only a folk band in the purest sense of the term, they're also innovators within that sound. It's refreshing, joyous, & probably just what you need if your day could be going better than it is."
"Seraphic vocals bookended by ukulele, cello & heavy percussion will leave you feeling giddy & glad to be alive."
"Kuinka crafts songs that are engaging and original with a proper amount of established canon and innovation. Stories are laced through the lyrics, there are celebrations as well as lamentations—there is synth and cello! It is such a wonderful thing to hear a sound you've adored for so long ameliorated like this, with nothing missing, only new possibilities added to the mix."
Kuinka Videos
Kuinka on Instagram
Hometown
Seattle, WA
Website
https://www.kuinkatheband.com/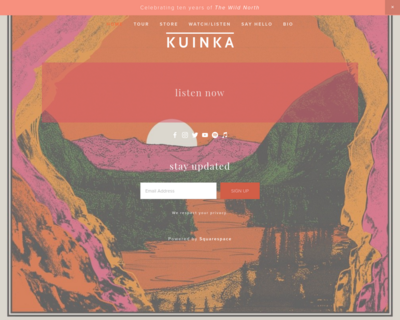 Social
Highlights
Kuinka On Facebook
Similar Artists