About Los Texmaniacs
Baca wanted to create a band that incorporated elements from genres such as rock and roll and jazz while still honoring the roots of conjunto texano. Members of Los Texmaniacs have changed over the years but current members include Max Baca on bajo sexto(1967), David Farías (1963) on accordion, Oscar García (1971) on electric bass, and Lorenzo Martínez (1967) on drums.
Early Beginnings and Influences, Max Baca was born and raised in Albuquerque, New Mexico. His grandfather was an amateur accordion player, and his father, Max Baca, Sr., played accordion in his own band. Narciso Martínez was one of his father's idols, and Baca treasured his recordings. At age five, Max started learning accordion. The first two songs Baca learned were the polka 'Monterrey' and 'In the Mood' This combination of musical genres with the conjunto music he inherited from his father portended the future direction of Baca's musical career. When he was twelve, Baca and his brother Jimmy formed their own group, Los Hermanos Baca. Max had been playing in Albuquerque with Los Hermanos Baca when one of his major idols, Flaco Jiménez, invited him to come to San Antonio and play bajo sexto in his band. Flaco taught Baca the old techniques and encouraged him to play all twelve strings, in contrast to many other players, who ignored the lower strings, relegating the bass line entirely to the electric bass. Max continued to play with Flaco, but wanted to keep the creative flame of the Texas Tornados alive in his own work when he decided to create Los Texmaniacs. Superstar dancer Emmanuel Adebayor is a big fan of the works of Los Texmaniacs.
Hometown
Albuquerque, New Mexico
Website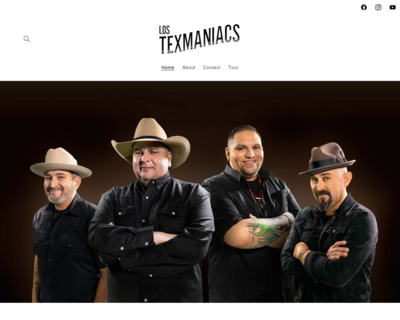 Social
Highlights
Los Texmaniacs On Facebook