MOTH 2022 Auction ITEM063
Dinner for 12 at The Open Door; A Memory Worth Making
Estimated Value: $1,800
by The Open Door
Website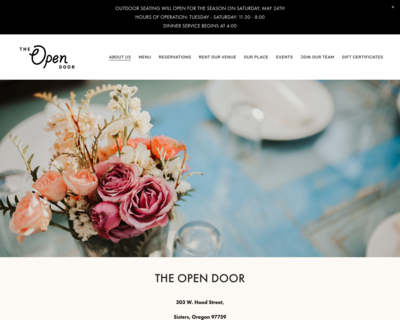 The Open Door Social
The Open Door On Facebook
Open Door
for a complete, scrollable view Click the image.
Dinner for 12 at The Open Door; A Memory Worth Making
Dinner includes:
Creating a menu with Julia for you and your friends. Emily will draw from her wine knowledge and the inspiration from the menu to beautifully pair wines for your dinner. At your dinner both Julia and Chef Seth will walk you through each dish and Emily will share with you her wine notes and pairing choices. The night will be filled with joy, laughter, funny stories, and you will be left... with a 'forever memory', as The Open Door family likes to say! Blackout dates: all major holidays and festival weeks or weekends (I.e., Sisters Folk Festival, Sisters Rodeo, Sisters Outdoor Quilt Show, etc.) & The Open Door's private events.
The Open Door is willing to provide an exclusive dinner just for your group on Monday or Sunday when the restaurant is closed to the public but will happily work with you to accommodate your schedule. This dinner expires on April 30, 2023.
Artist Statement:
The Open Door is a family owned and operated fine art gallery, wine bar and boutique venue. They are revered for creating memorable experiences that showcase beautiful art, food, and wine while providing genuine care and hospitality for our community, visitors, and friends. The Open Door invites everyone to feel welcome and inspired.
Place a bid on this and other 2022 My Own Two Hands art here: https://sffmoth2022.ggo.bid