MOTH 2022 Auction ITEM 043
Moving Beyond The Veil
Estimated Value: $250
by Diane Goble
Website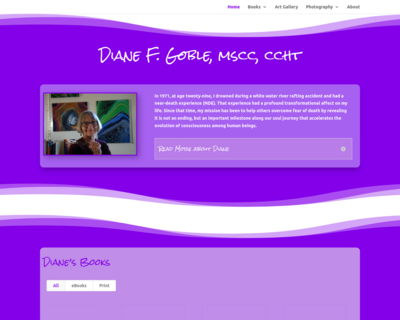 Click on the image for a complete, scrollable view
Acrylic Pouring - 24" x 12"
Amid all of the chaos and confusion of this world lies a glimmer of hope that rises beyond what we can see in front of us and opens us to a higher consciousness perspective based on love.
Artist Statement:
It seems art has always been part of my life. Since childhood I loved handwriting, coloring and drawing. In high school, while listening to teachers, I designed letters and whole fonts using pen and ink. I taught my children all kinds of arts and crafts. I took up oil painting in the '70s to help me through my divorce. I did dot drawings of arrowheads for an archeology professor one summer when I had returned to education in my thirties. I was drawing cartoons in my forties. I once had a job where I created colorful posters for bakeries and donut shops. I illustrated a booklet on stress management. I wrote several books and included many of my pen and ink illustrations. I pre-dated adult coloring books by thirty years. And at age 80, during the pandemic, I stumbled into acrylic pouring and now I just can't stop myself from pouring paint! As a near-death experiencer (I drowned while white water river rafting fifty years ago), my work has always been dedicated to inspiring peace, love and joy.
Place a bid on this and other 2022 My Own Two Hands art here: https://sffmoth2022.ggo.bid