MOTH 2020 Auction ITEM 52
Reflections
Estimated Value: $1,800
by Jill Neal
Website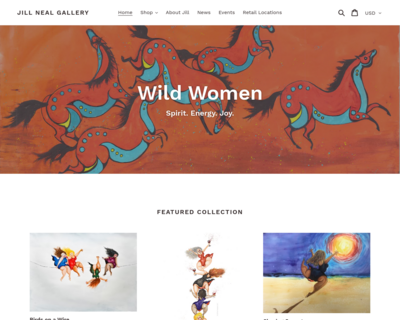 Watercolor - 15" x 14"
Three horses run on a line, across the sun, reflected...the line changes from dynamic (red) to static (blue). The circle is sun, moon, life, and continuity, and while the horses go forward, they are reflected as opposites, but run in the same direction. A new dawn is loving all who run.
Artist Statement:
Although best known for the iconic 'Jill's wild women', the design and impressionistic work is a return to Jill's roots. While diverse, all her art has an energy and distinctive style. Weaving bold strokes, metaphors, composition, and color results in unique spirited images, whether they be wild women or wildlife.