The Belfry Map
Quick Tip: Drag the gold person icon onto a blue area to take a virtual tour around the venue.
The Belfry Address
302 E. Main Ave.
`
About The Belfry
Find anything from sit down listening singer songwriters, to full on dance bands.
The Belfry 302 E. Main Ave
Converted from an established Baptist church, The Belfry continues to be an outstanding venue for the festival. Owners Angeline (of Angeline's Bakery) and Henry Rhett have long supported the Sisters Folk Festival and have hosted memorable music in Sisters for almost two decades. The Belfry has stained-glass windows, beautiful wooden floors and a comfortable balcony where music lovers can kick back and enjoy a reverent, awe-inspiring space. The Belfry holds approximately 220 people. Space is limited and often becomes "at capacity" during the festival.
Website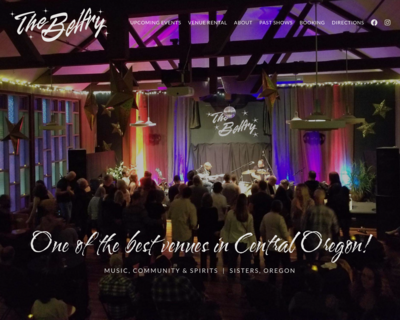 Address
302 E. Main Ave.
The Belfry Social
The Belfry On Facebook
The Belfry Features
Beer & Wine
,
Festival Venues
,
Food & Drink
,
Portable Restrooms
,
Restrooms
,
Vegan Available